---
ABOUT THE ALBUM :
Interview with Marc Melia :
Co founder of the label Les Disques du Festival Permanent together with Gaspar Claus, Flavien Berger launches with this first release his collection "La sélection de Flavien Berger.
This album comes from an unexpected encounter between two musicians when
Marc Melià
gave a cassette to
Flavien Berger
containing the songs of "Music For Prophet" after a concert the French singer had given in Liège. A symbolic encounter today illustrated on the cover of the album by a photo taken at the magnificent train station of Liège by french photographer
Valérie Le Guern
.
Marc Melià
is a Majorca born composer and musician who currently lives in Brussels. For the last ten years he has been composing, producing and playing music in several bands including the pan-european trio
Lonely Drifter Karen
among them with whom he released 3 albums on the Belgium label
Crammed Discs
.
Music For Prophet
, his first solo album, it's part of the new born tradition of the repetitive music composed by sensitive robots for the humans of tomorrow. The protagonist of the album, from where all the mystical loops, giant statues of arpeggios and the big variety of electronic landscapes post-Kraftwerk are born it's called Prophet 08, an already mythical synthesizer. With
Music For Prophet,
Marc Melià
proposes a performance where, unlike the vast majority of live electronic music acts, each song is crafted by hand at every concert without the use of prerecorded sequences.
Marc Melià
y naturalises what is synthetic, humanises what is robotic and looks for the beauty in sounds that by nature are cold and emotionless. In the album there is a dichotomy between the will of being real and the impossibility of escaping it's artificial nature, as when Rachael becomes aware that she is a replica, not human in 1982's film Blade Runner. He has performed in recent editions of Belgium festivals
Deep in the Woods
,
Leffingeleuren
,
Les Nuits Botanique
,
Theather aan zee
or
Microfestival
and he has opened for artists like
Kaitlyn Aurelia Smith
,
Chasol
,
Anna Meredith
or
François and the Atlas Mountains
. He has also remixed songs for
Girls in Hawaii
,
Haring
,
O
and
François and the Atlas Mountains
.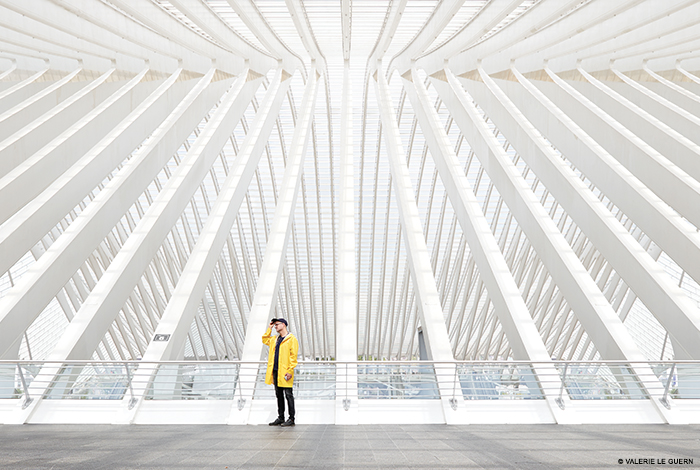 Co-fondateur du label
Les Disques du Festival Permanent
aux côtés de
Gaspar Claus
,
Flavien Berger
inaugure avec cette première sortie sa collection "La sélection de Flavien Berger" au sein de LDFP.
Une sortie qui doit tout à une rencontre imprévue entre le compositeur et musicien
Marc Melià
 et
Flavien Berger
, lors du passage de ce dernier à Liège pour un concert. Juste après le show,
Marc Melià
parvient à glisser une K7 à Flavien contenant les morceaux de l'album "Music For Prophet". Une rencontre symbolisée aujourd'hui sur le back de la pochette du disque, prise de vue de
Marc Melià
réalisée au sein de la magnifique gare de Liège par la photographe
Valérie Le Guern
.
Marc Melià
est un musicien et compositeur né à Majorque et qui vit aujourd'hui à Bruxelles. Ces dix dernières années, il a composé, produit et joué de la musique au sein de nombreux groupes, parmi lesquels le trio pop bruxellois
Lonely Drifter Karen
, auteur de 3 albums sur le label belge
Crammed Discs
. Il est aujourd'hui clavier au sein des groupes
Françoiz Breut
,
Borja Flames
et
Le Ton Mité
.
Music for Prophet
, le premier album orchestré par
Marc Melià
, s'inscrit dans cette tradition naissante d'une musique répétitive composée par des robots sensibles pour les humains du futur. Le personnage principal de ce disque, d'où naissent toutes ces boucles progressives et mystiques, ses statues d'arpèges démesurées et la grande variété de ses paysages électroniques, s'appelle
Prophet 08
, un instrument synthétique déjà mythique.
Music For Prophet
est l'acte de naissance d'une véritable performance où, à l'inverse de la très grande majorité des concerts de musique électronique aujourd'hui, chaque chanson est littéralement fabriquée à la main, de manière totalement artisanale, à chaque concert, sans jamais s'en remettre à des séquences pré-enregistrées. Le fruit de ce travail de recherche et de composition est rassemblé aujourd'hui dans ce disque.
Marc Melià
y naturalise ce qui est synthétique, humanise ce qui est robotique, révèle la beauté d'une musique à travers des sons de nature froids et sans émotions. Dans
Music For Prophet
, se trouve mis en scène cette dichotomie entre une volonté d'être réel et l'impossibilité d'échapper à la nature artificielle de son être; comme lorsque Rachael se rend compte qu'elle est un Réplicant dans le film
Blade Runner
de 1982.
THE VIDEO
MORE INFOS :
https://www.facebook.com/marcmeliasobrevias/
https://marcmelia.bandcamp.com/
https://lesdisquesdufestivalpermanent.bandcamp.com/
---
Reader's opinions
---