---
L'album européen de la semaine, c'est «CHECK MY SPLEEN» de FABIOLA (BELGIQUE). Gagnez cet album en écrivant à musique(at)euradio.fr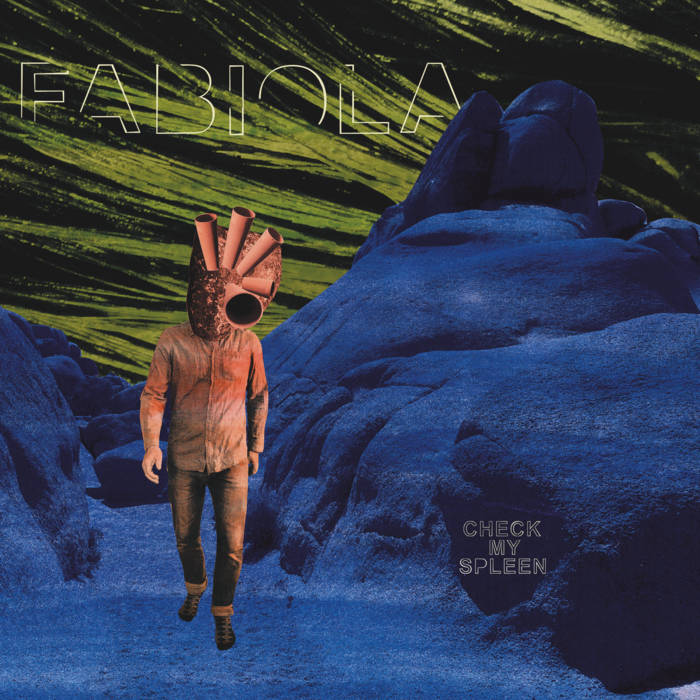 ABOUT THE ALBUM :
Interview with Fab Detry from Fabiola :
Imperceptible fantasy or loyal alter ego, Fabiola is Fab Detry's (almost) solo project. After more than 10 years of dedicated services along with Austin Lace, The Tellers or Hallo Kosmo, this überpop blacksmith today devotes himself to guiltier pleasures. During endless discussions with ghosts and demons, Fabiola has built a castle. With imaginary friends as Ariel Pink and Juana Molina, the songwriting still glows but the music gets more dirtier and lunatic. Fabiola's (anti)-pop still smiles, but lacks a few teeth.
 Live Band : Monolithe Noir (drums), Aurélie -Blondy Brownie- Muller (bass) et Lucie Rezsöhazy (keyboards)
 The album
 Check my spleen was written by Fab Detry,  produced and recorded by Fab Detry and Aurélien Auchain at Fritz Mansion and Area 42 throughout 2017. Mixed by Aurélien Auchain
 Musicians on this record :
 Antoine Pasqualini (Monolithe Noir), David Chazam, Marc Melia,
Aurélien Auchain (Mountain Bike), Lucie Rezsöhazy, Daniel Offerman and Brice Vancauwenberge (Girls in Hawaii), Guillermo Badilla, Paco Jordi.
 Cover by Julie Chapallaz, who also directed Kingdom's video.
 Check my spleen is dedicated to my spleen (the organ i mean) without which I wouldn't be alive today
The songs (in running order)
Failure or what it would be to express the worst feelings about yourself, really being a loser. Finally giving up trying to be someone good. You are miserable, jealous, you can finally hurt yourself without any attempt from the others to tell you you're worth better. A masochistic song. Very fun to write.
Break of dawn is a song about animality. And the deep fever you can feel when you get lost in nature.
My bird is inspired by a book written by Knut Hamsun (Mysteries). A foreigner arrives in a small bourgeois town of Norway. He's utterly different and strange but all posh people from the town want to inviting him for dinner, ask for his opinion and treat him like a godfather. But does somebody know what's next in the show?
Robert Palmer : I have a very talented friend who spend most of his life ruining all the chances he has to accomplish something and meet a true love. This song goes to him. Hope he'll change one day
Fox of Scotland is dedicated to a friend of mine, with red hair of course. It's a (mostly) instrumental song. I wanted to transpose the fever (again) of Werner Herzog's Aguirre into music.
Shit (is coming back) : « Shit is coming back… when she's coming back ». No comments.
Kingdom is about a mad king, lost in his castles with fantams as only friends.
St. Servais : you go to a drug driven party. You don't know most of the people there and they only play parodies of good songs, only motivated by the image of themselves in the mirror. You decide to leave. It's 4 am. It's June. The city breathes with you, for you. It's the greatest pleasure you've ever felt.
Betty : One more argument with a friend of mine. Come on Betty, spit all your anger about me. I won't react and i'll enjoy it. Another masochistic song.
Bottom of the well is about camping and love. And about a 6 years old kid trying to look older in front of a 10 years old girl.
Lubie insaisissable ou alter ego fidèle, Fabiola, c'est le projet (presque) solitaire de Fab Detry. Après avoir sévi dans Austin Lace, The Tellers ou encore Hallo Kosmo, cet orfèvre de l'überpop assume aujourd'hui ses plaisirs coupables. Lors de dialogues incessants avec fantômes et démons, Fabiola s'est construit une forteresse. Avec des ami(e)s imaginaires comme Ariel Pink et Juana Molina, l'écriture reste lumineuse, mais la musique prend un tour plus crasseux et dérangé. L'(anti-)pop de Fabiola sourit toujours, mais il lui manque quelques dents.
THE VIDEO
MORE INFOS :
https://www.facebook.com/fabiolaband?fref=ts
---
Les opinions du lecteur
---