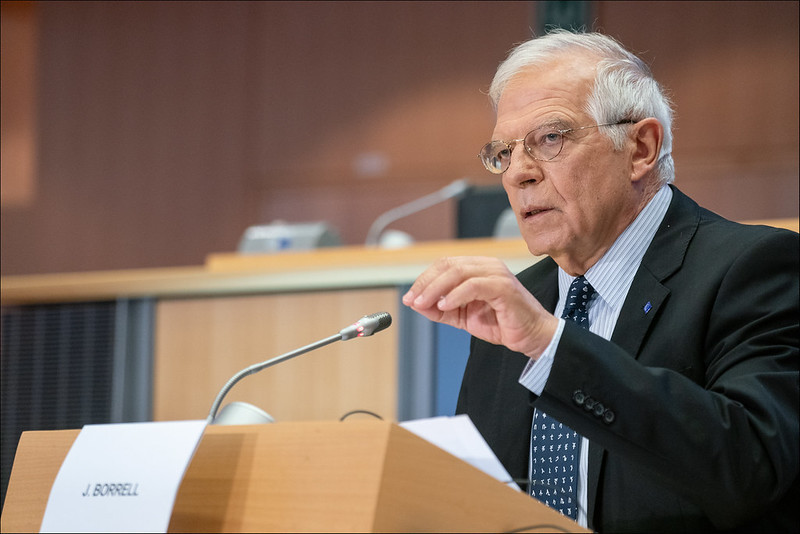 The visit that caused fury in Brussels
It was not the first time for Josep Borrell to be called before the European Parliament to defend his actions. Last Tuesday, he tried to explain why he failed to push back against Russian foreign minister Sergey Lavrov on his visit to Moscow two days before. "Borrell faces fury in Brussels" summarised Politico. Was Borell's visit indeed "a complete failure", or was some of the criticism in fact misplaced? 
You'll find the script below :
What did Borrell do to be so heavily criticised by MEPs and the press ?
Perhaps better to ask, what did Borrell not do when visiting Moscow last Sunday. "A complete failure" and "humiliating" that is how several Members of the European Parliament described his trip on Tuesday. He failed to push back against Russian Foreign Minister Lavrov, who did not hesitate to call the EU an unreliable partner, and accused the bloc's leaders of lying about Navalny's poisoning. Josep Borrell, in his turn, congratulated Russia with the good review of the Sputnik V vaccine. "A diplomatic failure as rarely seen in public" according to Dutch newspaper NRC. Spanish newspaper El Diario however also mentions that Borrell managed to defend himself with various arguments in the European Parliament on Tuesday. The most important one: Why would the EU high representative not be able to go to Russia, when EU national leaders can? According to El Mundo, many governments are taking advantage of the trip to "try to clip the wings of the Spaniard, whose agenda, methods and interventions are far more ambitious than those of his predecessors."
And will he have enough support to remain in power ?
Well, according to Politico, many diplomats and EU officials already had concerns over Borrell's ability to manage EU foreign policy. Amongst others because of recent incidents with China and Turkey. The Moscow trip, however, "appeared to damage Borrell's standing across the board, necessitating statements of support from some of his staunchest backers", of whom Von der Leyen, who still shows her "full support." According to Belgian newspaper De Standaard, the EPP group has no intention of giving Putin a present by continuing to "bash Borrell", taking away the attention from the situation in Russia. Borrell will not resign despite criticism in the European Parliament, predicts Spanish newspaper ABC.
And besides Borrell's diplomatic blunder, what else made the news this week, starting with Spain ?
Borrell's trip to Russia has obviously had a great echo in Spain, especially after the words of Pablo Iglesias, one of the vice-presidents of the government, who openly questioned the democratic quality of the country. "Pablo Iglesias aligns himself with Russia" headlined El Mundo. On the other hand, a rapper has opened the news and front pages of almost all the Spanish media. His name is Pablo Hasel and the Supreme Court has confirmed his imprisonment for his controversial lyrics. He is accused of exalting terrorism and insulting the crown. Cultural organisations in Spain have turned against this sentence and the government is studying the suppression of prison penalties for cases like Hasel's.
And let's take a look at Northern Ireland, where Brexit is slowly becoming reality ?
Ursula Von der Leyen's apology after considering triggering the article 16 of the Northern Ireland protocol to ensure the vaccine supply in Europe made the headlines in Northern Ireland. "Mistakes were made, and I deeply regret that" stated Von der Leyen. On the other hand, Northern Ireland continues to be affected by strict restrictions and Chief Medical Officer Dr Michael McBride has said he is considering Northern Ireland to take "baby steps" out of lockdown, as states The Irish News. This follows the announcement earlier this week that restrictions against COVID-19 are likely to remain in place until 2022, which came as a bitter pill to swallow for Northern Irish citizens.
And how about the Netherlands ?
Commotion in the Netherlands this week when an inquiry committee on international adoption published a report on Monday, by the media described as "devastating". According to the committee, irregularities and fraud did not only exist in the past; the system is still susceptible to fraud and "abuses still occur today". A day after minister for legal protection Sander Dekker announced the immediate suspension of international adoption. "The most striking observation is that adopted children were often not orphans at all", states NRC, but displaced, or outcasted because of poverty. Besides the adoption scandal, Corona related matters and the exceptionally cold weather, the media also paid attention to the release of Saudi human rights activist Al-Hathloul, the attack on the media in Poland via the introduction of a tax on advertisement, and the coup in Myanmar.
Erik Ruiz Martín & Nadine Vermeulen
Image : European Parliament CC BY 2.0