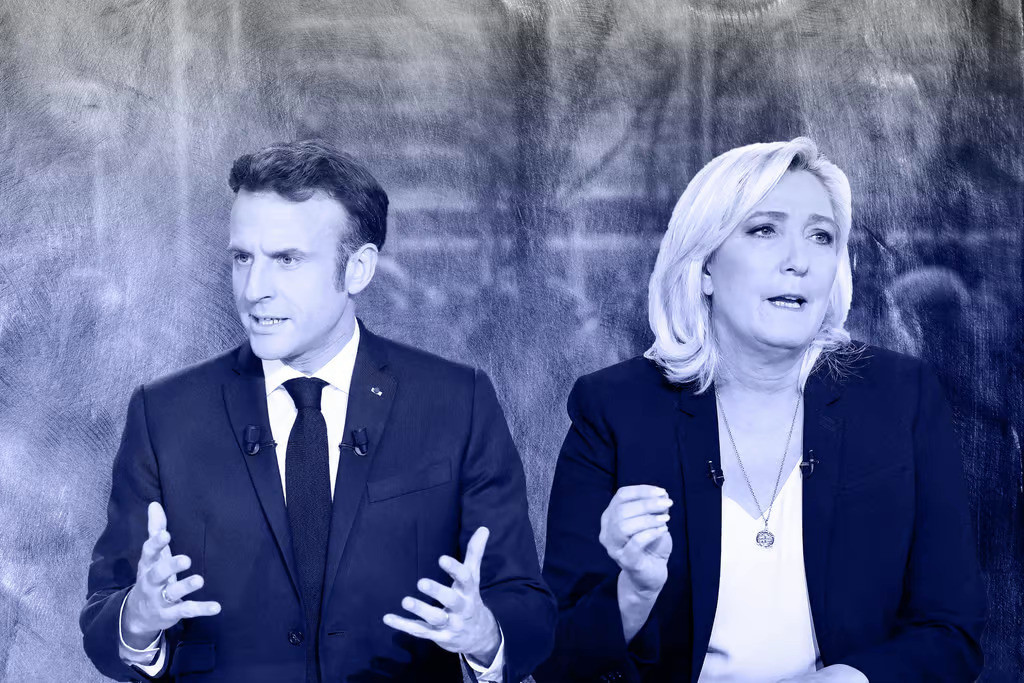 What´s New(s)? La revue de presse anglophone – Erik Ruiz Martín & Nadine Vermeulen
The outcome of the French elections may not have been a big surprise; it will have an important impact on Europe in the years to come. Macron re-elected: a sigh of relief for European leaders headlined POLITICO. 
What did the press in other European countries write about the outcome of elections?
Indeed, Macron's victory was not seen as a huge surprise, even if in the end it did become quite a tight race between him and Le Pen. France's "republican front" did its job once more in Sunday's election runoff, wrote the Guardian, but, battered and bruised. The president does not start his second term with 'clear skies' wrote Dutch newspaper NRC. Not only was the percentage of voters voting for a populist candidate higher than ever, also was the turnout extremely low: almost a third of the French decided to stay home. This reflects the distrust towards the president and politics in general, concluded the newspaper. A part of the voters who did vote for Macron did so with a 'proverbial clothes peg on the nose.'
But Macron's election was first and foremost seen as a victory for Europe, wasn't it?
Indeed, for almost all European leaders Macron 's victory stands for four years of stability for the European Union. The heads of several EU Member States feared a victory of the populist right. With Emmanuel Macron's victory over Marine Le Pen, the European Union is escaping an existential crisis at a time when European unity in the face of Vladimir Putin is indispensable, concluded NRC. Even if the turnout was relatively low and the radical right gained ground once again, for Brussels, only the end result counted, wrote the newspaper. European leaders including Ursula Von der Leyen and Charles Michel were therefore quick to congratulate Macron on Sunday. Most European leaders reacted within half an hour after the first results, wrote Reuters. According to German president Scholz, Macron's win gives a "strong European signal". Not all European leaders were however swift in congratulating the French president. In Hungary, no official government reaction has been published so far, stated Euractiv.
And what about the uprise in support for extreme right parties?
The far-right has gone mainstream in France, that is the one of the main take-aways of the elections, concluded AP. Even if fierce nationalist Le Pen did not win, she edged yet another step closer with 41.5% of the votes, unprecedented for the nationalist's populist party. Le Pen's anti-foreigner, anti-system politics of disgruntlement are now more than ever entrenched in the psyche and political landscape of France. The pariah did not become president, wrote the BBC, but the results still count as a win for her and her party.
But taking a look at the consequences for France itself, will the unpopular president succeed to hold ground, what does the press predict?
Hard to predict... Raquel Villaécija, El Mundo, calls Macron's term 'the mandate of dissatisfaction', and points out that "the president will have to change the way he does politics, polishing his arrogant profile and fighting to disarm the far right even more". For Jean-François Khan, Le Soir, Macron will absolutely have to integrate critical voices into his new government, to avoid an explosion. French newspapers agree with this analysis, with Libération and Le Monde stressing that Macron cannot carry out this five-year term without the support of the social agents, and that he will have to rely on new ideas and the input of other parliamentary groups if he does not want the extremes to continue to grow further.
And what will his re-election mean for the French economy?
Rafael Pampillón described the fight between Macron and Le Pen in Expansión as the struggle between two antagonistic models, one in favour of free market competition and the other in favour of interventionism and isolationism. After his victory, Emmanuel Macron faces a complex economic juggling act states Financial Times, "From soaring fuel costs to pension reforms, French president must keep recovery on track and social unrest at bay" For France 24 Macron will have to deal with discontent over the rising cost of living and one of his main objectives will be to recover purchasing power. There are still many doubts about how he will do this, since as Deutsche Welle underlines, many of the ideas Macron has suggested seem like opposing concepts... With Macron's success in this second term in office are the hopes that there will be no further growth of the far right in the next elections.
Presentation : Nadine Vermeulen
Sound and editing : Jimmy Chabod 
Source images by Getty/EFE via EPA