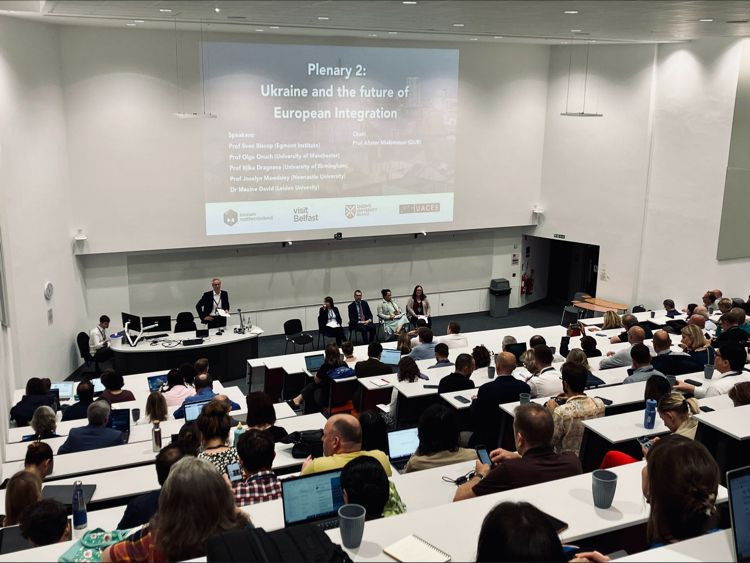 We are very happy to enter the third season of our weekly "Ideas on Europe" editorial with our partners from University Association for Contemporary European Studies (UACES). And as each year we launch the season with the chair of the association, Simon Usherwood, professor at the Open University. 
You're just back from the big annual UACES conference in Belfast in Northern Ireland. So what were the big topics ? Are the researchers still discussing Brexit, or have they moved on ?
Maybe we will come back to Brexit in a minute, but the main message I took away from our conference was that the European Union has much bigger questions to deal with.
After years of talk about crisis –migration, Covid and all the rest – there seems to be a new sense of more confident discussion about the future.
In part that's because the EU's member states seem to have rediscovered the value of working together, both with each other and with those around them.
Let me give you a couple of examples.
Internally, the huge step in funding that came out of Covid – the Recovery and Resilience Facility, also known as NextGenEU – is starting to come into effect, simultaneously boosting economic performance and supporting the move to greenhouse gas reduction.
And because the EU controls that funding – over €700 billion – it has also been in more of a position to nudge those member states that have been backsliding on democracy and rule of law to get back in step.
Now, as various colleagues pointed out, those efforts haven't been totally successful, but they still represent a more assertive European Union, more willing to get involved in member states' internal affairs.
Did you also discuss the question of enlargement ?
We did ! The invasion of Ukraine has put enlargement front and centre in policy debate, as we heard just last week from Commission President Ursula Von Der Leyen in her State of the EU speech. 
If that conflict has been as much about European values as it has about geopolitics, then the EU has come to appreciate that the pathway to Ukrainian accession has to be both open and not too long.
That, in turn, has also brought a new dynamic to the very drawn-out negotiations in the Western Balkans, for fear of losing places like Serbia to Russian influence.
And it's meant more interest in providing shared spaces for collaboration with those countries that don't want to join, like the European Political Community, which might have potential in keeping strong lines of interaction across the continent.
This all sounds very positive. Normally, researchers tend to be a sceptical kind of people…
Don't worry, many of the debates we had in Belfast still turned around long-standing questions about the legitimacy and practice of European integration.
As much as the EU has pulled through a long period of crisis, it has done so by building up a set of ad-hoc arrangements, struggling through each new challenge rather than building a durable way of doing things.
To put it differently, it's one thing to get through a crisis, but another thing to make things work when there's no crisis. And despite appearances, not everything is a crisis.
Indeed, it's important to remember that many of the crises of the past decade have come about in part because of the day-to-day operation of the European Union.
Now you're finally talking about Brexit after all, right ?
What we discussed at the conference is the risk for the EU that the conditions that produced Brexit in 2016 might occur again in another member state.
Things like feeling disconnected from European decisions, blaming 'Brussels' for unpopular choices and low levels of knowledge about the EU are not solely British problems. Your well-informed audience at Euradio is probably more the exception than the rule !
Despite its best efforts, the UK has not fallen apart and is performing comparably to EU members since the pandemic, so we might find ourselves in a few years with politicians inside the EU arguing that the UK made the right choice in leaving.
As much as the European Union provides a dense network of support – political and economic – for its members, that has not translated into a deep public support.
So perhaps our conclusion here might be that it is not enough to have the European Union exist, but we also have to work on ensuring that it is understood and accepted by its citizens.
Entretien réalisé par Laurence Aubron.